Black Businessmen Give Communities A Tasty Boost
citizen | 11/28/2011, 11:37 a.m.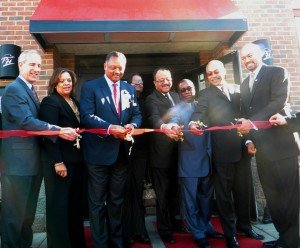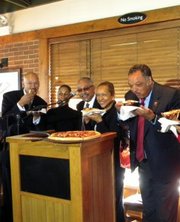 On Nov. 15, dozens of dignitaries and community members gathered to celebrate the grand re-opening of a Pizza Hut restaurant located at 2042 W. 47th St. JGJ Management Company, LLC (JGJ) announced the purchase of the popular pizza eatery and also announced plans of creating more than 250 jobs in the Chicagoland area. In addition to the 47th street location, JGJ has purchased eight other Pizza Hut franchises.
JGJ was established to manage and operate businesses like Pizza Hut in the Chicago market. The company is led by three businessmen with decades of combined experience in the areas of sales, operations and financial management.
Louis James, Chief Executive Officer, Henry Gray, Chief Financial Officer and Michael Jackson, Chief Operating Officer all have a primary objective in regards to the Pizza Hut project which is for each location to be community based and directed toward employing those in under-served areas of Chicago.
Our goal is to ensure that community residents are provided the opportunity to maintain their current jobs and employ as many residents that each restaurant location will allow, said James. Additionally as a way to include the community, we were equally excited to partner with Fifth Third Bank located in Chicago.
JGJ partnered with Fifth Third Bank which helped them secure the funding needed to acquire the nine Pizza Hut franchises.
Im proud to see another African American owned business on the South Side, and the profits from the business staying in Chicago, said Marino Orlandi, Vice President of Business Banking at Fifth Third Bank.
The Rev. Jesse Jackson Sr. , John Hawn, Franchise Business Coach for Pizza Hut and Juan Manzano, Chief of Staff for Ald. George Cardenas (12th Ward) also attended.
During theevent, Rev. Jackson expressed that he was pleased to see people in the community thriving and creating hope by helping others get jobs, pay off loans and educate their children.
JGJs eight other locations are located at: 5900 S. Western, 8849 S. Stony Island, 5201 S. Pulaski, 5905 S. Archer, 47 W. 79th St., 6700 S. Stony Island, 12601 S. Western Ave. in Blue Island, IL and 13223 S. Cicero in Crestwood, IL.
By: Abbra Stiffend