Thornton Township Hosts Energy Fair
citizen | 11/10/2011, 3:21 p.m.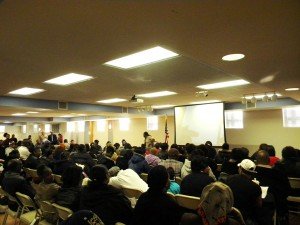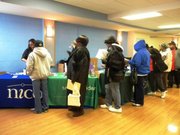 On Nov. 5, Thornton Township hosted an Energy Fair designed to help limit the number of residential utility shut offs this winter. In partnership with Nicor Gas, ComEd and CEDA, Thornton Township officials provided residents with information about weatherizing their homes and on how to receive assistance with their energy bills.
This years fair was co-hosted by Thornton Township Supervisor Frank Zaccarelli, Thorton Township event coordinator, Antoine Collins, Illinois State Representatives, Thaddeus Jones (29th Dist.) and William Davis (30th Dist.) and Cook County Commissioner Deborah Sims (5th Dist.) .
For 10 years, Thornton Township has provided its residents with energy bill assistance. At this years fair, which was held at the Thornton Township offices (333 East 162nd St., South Holland, IL), representatives from CEDA, Nicor Gas, ComEd and the Illinois Hardest Hit Program were available to answer questions and give residents the resources needed to manage costs associated with cold weather.
Thornton Township is the largest township in Illinois and it encompasses 17 south suburban cities. The services offered at the Energy Fair were only available to residents within these 17 municipalities. While 135 people pre-registered in October to receive assistance, over 200 showed up for the fair.
This program has grown immensely; our budget goes up every year. We now have $100,000 plus to help residents out, said senior case manager of Thornton Township, Tannika Hughes. The goal is to help people as much as we can, young or old.
During the fair, residents were required to watch a film on energy preservation before receiving assistance.
Nicole Gordon, a resident of Calumet City, IL attended the fair to receive information on weatherization. I have a leaky chimney, cold air blowing through my windows and a broken garage door. I figured this would be the fair to learn how these problems can be fixed, she said.
For additional information about Thornton Township or the Energy Fair, please call 708-596-6040.
By: Abbra Stiffend