Theatre Brought Back To The West Side
citizen | 11/2/2011, 11:09 a.m.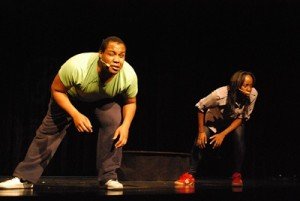 High-energy theatre prevailed last Friday evening inside Westinghouse College Prep High School (WCPHS) on Chicagos West side.Through a partnership, between WCPHS and the eta Creative Arts Foundation (ETA), actors Lisa Beasly of Gary, IN and Osiris Khepera of Chicago performed a one act play entitled Flow.
Flow, written by Will Power in 2003, examines the archetypes within black communities with a hip-hop twist. Originally presented as a one man show at the New York City Hip-Hop Theater Festival, Power tells the stories of six different characters through high energy rhymes.
This is a first time release to the industry, said Sonita Surratt, Director of the production. Will Power has performed Flow in different states but never has it been released and performed by others, she added.
A veteran of theatre, film and television, Power has won multiple awards for his work, which bridges the gap between the spoken word of hip-hop and traditional theatre. Will Power is also an award-winning playwright and performer. His acclaimed solo show Flow, has been described as astounding (Curtain Up) and theater with the refreshing aroma of originality (New York Times).
Funded by The Chicago Community Trust and Affiliates through a $75,000 grant, ETA, one of Chicagos leading African American performing arts institutions, will also host It Shoudda Been Me and The Tree That Grew Human this coming winter at the college prep. Proceeds from these productions will go toward supporting programs at Westinghouses development of an in-school drama department.
Because the West side of Chicago is often referred to as a theater desert, these performances and the production of Flow are a welcomed addition to the community.
The next production of Flow will be held on Nov. 4; all tickets are $10.For ticket information, call Westinghouse College Prep at 773-534-6400 or the eta Creative Arts Foundation at 773-752-3955.
By: Abbra Stiffend