CSU Prepares for Annual Scholarship Walk
citizen | 5/3/2011, 1:30 p.m.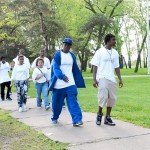 by Thelma Sardin
On May 7, the Chicago State University (CSU) Foundation will host its 3rd Annual Arthur Stephens Scholarship Walk. The event will be held from 7:30 a.m. to 2:00 p.m. The annual 3K event is named for Arthur Stephens, a long time CSU employee and volunteer who passed away in 2009.
Fees for the walk are $20 for adults; $10 for teens and $5 for CSU students, seniors over 65 and children 12 and under. Additional activities for the day include warm up exercises, Zumba fitness demonstrations and dance entertainment.
According to a press release, proceeds from the Arthur Stephens Scholarship Walk will help to keep Stephens legacy alive by supporting a scholarship named in his honor.
The walk is the brainchild of Katy Assem, Executive Director of the CSU Foundation. Jorja Porter, Director of Advancement Services, CSU Foundation says Stephens represented campus unity and had a great connection with the surrounding community. Porter said Assems mission for the walk is to honor Stephens memory and promote a healthy lifestyle among the CSU community.
The registration deadline for the walk was April 29; however, Porter says registration will be open as long as possible. She said in the past many people have registered the day of the walk.
The foundation is expecting between 125-200 walkers and volunteers; however, Porter says in the past people have decided to attend the walk at the last minute.
The foundation is not looking to raise a certain amount of money. Porter says due to the economic recession, the foundation is appreciative of individuals who decide to participate. In addition, people often make donations to the scholarship fund if they cannot attend.
Scholarships will be given year around to students. Porter says that the students will be identified based on their academic record and financial need. The amount and use of scholarship monies awarded to students varies.
Many high school students also participate in the event. Porter says the walk is a great way for Chicago Public High School students to earn service learning hours that are required for graduation. This year, high school volunteers will serve as a hype group, to get walkers motivated.
The walk course will center on the CSU Campus/Cordell Reed Student Union Building and surrounding community.
Sponsors for this years Arthur Stephens Scholarship Walk include Arosci, AT&T, U.S. Cellular and Dr. Katherine & Associates. For more information about the Arthur Stephens Scholarship Walk or to register or volunteer visit www.csu.edu/foundation.