CSU Premieres Original Television Series
citizen | 5/3/2011, 2:10 p.m.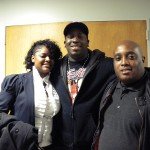 by SheRico Jones
This past Tuesday, Communications, Media Arts & Theatre students at Chicago State University (CSU) premiered the original television series pilot, The Chill. The series was written by senior Omar Karim Strong and directed by Darren Davidson who is also a senior at CSU.
At 7pm in the Breakey Theatrelocated in Douglass HallDr. Christine List, chairperson of the department of English, Communications, Media Arts & Theatre took the stage and introduced the entire cast and crew as well as several graduates who returned to the campus just to see the pilot. Welcoming the crowd, List addressed the audience who was anxious to see what The Chill was all about.
The Chill is a story about a college student named Khrys Carter (DeShawn Smith) who leaves Mississippi and moves to Chicago with his half-brother Toni (Roderick Haygood). The pilot revolves around Khrys getting adjusted to his new life. He makes several new friends and also begins to take interest in a girl named Tiffany (Tessa Harp), whose boyfriend Marcus (Astin Simmons) becomes a constant source of trouble for Khrys.
The 30 minute episode was a crowd-pleaser from start to finish and ended with a dramatic cliffhanger that made the audience go wild with applause.
The Chill started off as a class project for the Producing for Film and Television course, taught by Dr. List. The project ultimately took 2 semesters to complete. According to Dr. List, she and students spent the first semester in pre-production and the second semester in post-production. The entire pilot was shot on Chicago State Universitys campus.
This is a beautiful campus, the series director Darren Davidson said. The script and the campus just coincided. You really get to appreciate how beautiful this campus is when youre looking for shots and angles.
The series writer, Omar Karim Strong is a huge fan of teen dramas. He says that the idea for the script just came to him one day. Strong wrote the 50 page script and showed it to his classmates. They liked it. Casting auditions were held in class, and 2 semesters later, the cast and crew sat in the front row of the Breakey Theatre; at the receiving end of a generous round of cheers and applause.
I kind of wanted to go in a different direction with this, Strong said. I didnt want to do a teen drama; I wanted to do something a little more young-adult. Not too old, but not teeny-boppish, just right in the middle and thats where this came from.
Sophomore DeShawn Smith is a Communications major at Chicago State. He described the experience of playing the lead role, Khrys, as amazing. Prior to this film, Smith had never considered acting.
I thought I would try my hand at it and it turns out that Im pretty good, he said. Its made me want to make this more of a career.
According to Dr. List, the series already has 3 episodes filmed and they intend to submit the series to several film festivals.
We wanted to do something the school will be proud of and show Chicago State in a different light, Davidson said. We want to show a predominately Black university, thats not an HBCU, doing what were supposed to be doing.
To view the trailer and see interviews with the cast and crew, search: The-Chill Chicago State-TV on Facebook.