Church Member Urges Others to Get Screened for Eye Disease Before its Too Late
citizen | 6/21/2011, 8:40 a.m.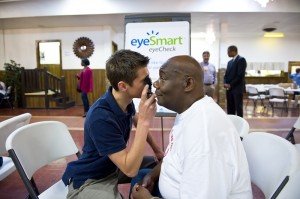 Recently Chicago residents took control of their vision at a free community eye screening hosted by the Illinois Association of Ophthalmology and the American Academy of Ophthalmology. The event, held at the New Mount Pilgrim Baptist Church drew participants from across the community and more than 50 ophthalmologists who performed free screenings for dangerous eye diseases like cataracts, glaucoma and diabetic retinopathy that can steal your vision if left unchecked.
Chicago resident Thaddeus Hall was among the participants. Mr. Hall has been living with diabetes for over 20 years, but like many patients had done little to manage his condition, until problems began to arise with his vision.
I was in denial about my diabetes for years and failed to be in compliance with taking my insulin, other prescribed medications, and not having the recommended annual dilated eye exam, said Hall, Executive Assistant to the pastor of New Mount Pilgrim Church and Chicago resident.
Hall, 48, was diagnosed with diabetic retinopathy four months ago, an eye disease affecting more than 4.4 million Americans age 40 and older. Like almost a third of Americans living with diabetes, Hall did not know he had the disease until vision loss began to set in.
Over the last three years Hall noticed his vision began to deteriorate. He recalls having family and friends read small print to him and help him identify colors when coordinating his clothes. He also found himself using a magnifying glass behind closed doors and had problems reading the words on the television. One day I woke up and it took longer than usual for my vision to become focused, at this time I told myself I had to get my eyes checked, added Hall.
He visited his ophthalmologist, an Eye M.D. who quickly discovered that Halls diabetes had taken a severe toll on his vision. The ophthalmologist told me that over the years, scar tissue had developed and that I was lucky that I came in because my retina had detached, which would require immediate surgery. Today Hall has regained some of his sight but still has very limited vision in his right eye. He prays his vision will be restored after his next surgery.
Most eye diseases like Halls diabetic retinopathy are treatable if detected early. In fact, up to 80 percent of all blindness can be prevented by early treatment.
To protect against vision loss, Chicago-area ophthalmologist, Dr. David Palmer urges all of his patients to have a comprehensive eye exam by age 40. But if you have existing risk factors like diabetes or a family history of eye disease, its important to see an ophthalmologist as soon as possible, added Dr. Palmer.
Thaddeus Hall would agree. Had I gotten checked earlier, I could have avoided all of these problems entirely, said Hall. I encourage people to be proactive and not reactive. Get your eyes checked before its too late.
To learn more about eye disease and the importance of getting screened, Dr. Palmer recommends patients visit www.geteyesmart.org, a free resource of the American Academy of Ophthalmology. And, to see if you qualify for a free eye exam, visit www.eyecareamerica.org.