CBA Pushes Technology Innovation
citizen | 6/14/2011, 9 a.m.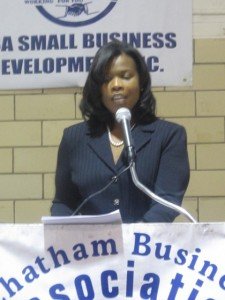 by Thelma Sardin
Broadband technology access for business owners was the main focus of the Chatham Business Associations (CBA) June meeting. The meeting was held Tuesday morning at South Central Community Services, 1021 E. 83rd St.
Kimberly McCullough, community affairs director at AT&T delivered the keynote address. McCullough has been a member of the CBA board for the last four years. I am very proud to be a member of the organization and I think CBA is doing great things in the Chatham business community, she said.
McCullough discussed the importance of innovation in the telecommunications industry during her nearly 20 minute speeches.
Telecom innovation drives the economy and improves our lives, she said. Its no secret why new telecom technology and in particular broadband wireless are everyday essentials for businesses and consumers across all demographics.
McCullough added that communication is crucial for commerce. She also acknowledged that technology is rapidly changing. AT&Ts community affairs director reminisced about mobile technology from the past such as pagers and beepers. She also compared past mobile technology with the present. Right now, I could get a text message, cell phone call and e-mail all at once on one little device, she added.
Business owners were asked if their companies are prepared for the future. Throughout her presentation, McCullough continually pushed the concept that mobile technology will pay an important role for businesses to be successful in coming years.
McCullough also discussed AT&Ts recent announcement of its planned acquisition of T-Mobile.
The company is acquiring T-Mobile from Deutsche Telekom, a German company. McCullough said the acquisition is significant because many times American businesses are sold overseas and in this instance an American corporation is acquiring a foreign company.
This is an unusual thing for us as a country, she said. Usually, you see our businesses leaving and going to other countries.
The acquisition will provide better service for T-Mobile customers. Subscribers will be able to download content at greater speeds with faster networks such as 4G.
McCullough concluded by asking business owners if mobile technology a part in their operations. How are you marketing your products and services in the mobility space?, she said adding, While you are looking at your strategic plansthink about how you might use broadband to do that effectively.