High School Freshmen Prepare for College
citizen | 7/26/2011, 10:50 a.m.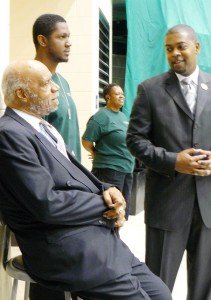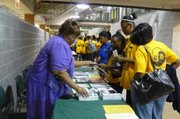 by Thelma Sardin
On July 14, approximately 600 high school freshmen from Chicago Public Schools (CPS) spent the day at Chicago State University (CSU) as college students.
Several secondary institutions participated including Bowen High School, Julian High School, Simeon Career Academy, Chicago Vocational Career Academy, Kennedy High School, Morgan Park High School and Hyde Park Academy.
Students received one-on-one interaction with CSU college professors about college academia, special college tours, and instructional activities, according to a recent press release.
The students visited the university via a CPS initiative, Freshman Connection, a summer bridge program for incoming high school freshmen. The day at CSU was a part of the program.
Although the students are at least four years away from attending college, CSU officials believe the Freshman Connection program is highly beneficial. The universitys administration say the initiative allows students to have a long-range plan beyond high school graduation.
Dr. Wayne Watson, CSU President collaborated with CPS officials to bring the students to the university and introduce them to college life.
Chicago State University students have historically achieved academic success in the disciplines of education, arts & sciences, business, pharmacy and health sciences, Watson stated in the release. The CSU community has a responsibility to connect with the younger generation and help them make the necessary preparation in their lives now so that they can accomplish the same outstanding academic achievements as the CSU students.
Social justice advocate and attorney, Thomas N. Todd was invited by Dr. Watson to provide the students with a motivational message. The Civil Rights activist was president of the Chicago chapter of the Southern Christian Leadership Conference in 1971 and president of Operation PUSH from 1983 to 1984. In addition, he is also well-known for his oratorical skills; during the 1983 and 1987 mayoral campaigns of the late Chicago Mayor Harold Washington, Todd often warmed up crowds prior to Washington's entrance.
According to the release, Todd encouraged students to invest in a higher education career to ensure their future financial stability and success. He told the students that once they earn a college degree no one can take it away from them.
Several CSU officials recently discussed with the Citizen the importance of reaching out to incoming high school students and bridging the gap between high school and college.
Were focusing on connecting kids all the way from grade school to an end goal of a bachelors degree, said Matthew Harrison, director of admissions.
CSU has also recognized trends among high school students and post-secondary education. By connecting with high school freshman, the university hopes to see more high school graduates enroll in college.
We also know that in high school, we lose about 50 percent of the students who start freshman year we believe if we start to connect or engage the students early in their high school career and expose them to college and talk about career opportunities, they will be more likely to select a college right after high school, said Angela Henderson, vice president of enrollment management.
This year was the first time CSU partnered with CPS for the Freshman Connection initiative; however the university looks forward to working with the public schools in the future.
We hope to continue [the] partnership with the Chicago Public Schools every summer. It was [a] great opportunity and great experience for the students. Dr. Watson would highly recommend that we continue to do this and hopefully each summer it gets better, said Henderson.
Dr. Watson and several of the universitys deans were present for the program. Henderson said this made the students extremely appreciative and honored that esteemed individuals were interested in and care about their academic choices.
They walked around the campus with an element of pride, Henderson said of the students reaction to the event.
For more information about CPS Freshman Connection program please log on to www.chooseyourfuture.org/freshman-connection
CSU is currently registering for the upcoming fall 2011 semester. For more information, please contact the Office of Admission at 773-995-2513 or log on to www.csu.edu