Arbiter Says Kodak Didn't Infringe Apple Patents
citizen | 7/19/2011, 8:12 a.m.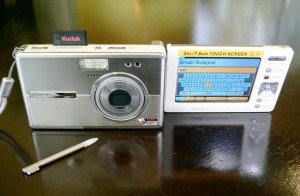 ROCHESTER, N.Y. (AP) - The U.S. arbiter for trade disputes has rejected Apple's claims that photography pioneer Kodak violated Apple's patents covering digital camera technology.
Eastman Kodak Co.'s stock rose 2 percent to $2.57 recently following the U.S. International Trade Commission's ruling. It affirmed a judge's May decision that Kodak's technology doesn't infringe on Apple Inc.'s patent rights and that one of the two patents in dispute is invalid.
The ruling comes weeks after the commission kept open Kodak's case against Apple and another smartphone maker, Research In Motion Ltd. A judge had ruled in January that the iPhone and the BlackBerry do not violate Kodak's patent. On appeal, the commission asked the judge to take another look. Kodak hopes to get up to $1 billion in royalties if it prevails.
Associated Press text, photo and/or graphic material shall not be published, broadcast, rewritten for broadcast or publication or redistributed directly or indirectly in any medium. Neither these AP Materials nor any portion thereof may be stored in a computer except for personal and non-commercial use. The AP will not be held liable for any delays, inaccuracies, errors or omissions therefrom or in the transmission or delivery of all or any part thereof or for any damages arising from any of the foregoing.