Historical Wall Project Commemorates Communities
citizen | 7/5/2011, 8:30 a.m.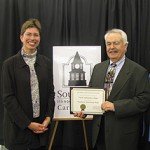 SOUTH HOLLAND, IL South Suburban College was presented with an Illinois State Historical Society Award for Special Projects for the colleges Dixmoor Historical Wall that was unveiled last fall. The award was presented by Lieutenant Governor Sheila Simon at the ISHSs 2011 History Symposium at Southern Illinois UniversityCarbondale recently.
The Dixmoor Historical Wall represents the 18th in this series of historical projects displaying old photographs, maps, articles and other publications throughout the hallways of the Main Campus and the University & College Center.
In addition to the old photographs, a brief history of each community is included with the displays. The Historical Walls were started in 1992 with the City of Harvey.
It is an honor to receive this award for the Dixmoor Wall, and it is really a tribute to all of the walls that we have completed to commemorate the communities of College District 510 and preserve their history for our students and residents, said Frank M. Zuccarelli, Chairman of the SSC Board of Trustees. I would like to thank the Illinois State Historical Society for this special recognition and of course everyone who worked so hard on this particular wall led by our Trustee and resident of Dixmoor, Katie Jackson Booker.
The following is an excerpt from the history that will be on display within the Dixmoor Historical Wall:
The village of Dixmoor was first called Specialville. It was named after Charles Special, an early land developer from Chicago Heights. Mr. Special became the first village president in 1922. He owned 70 lots in the village, and put up a valiant fight against the cities of Harvey and Blue Island who wanted to annex the area because of competition with industrial jobs in those communities. The Village of Specialville was incorporated January 15, 1923.
The previously completed displays and their locations are: Thornton, Atrium; South Holland, 4th Floor/Great Hall of Study; Lansing, 4th Floor near 4355; Harvey, 3rd Floor near 3373; Dolton, 3rd Floor near 3353; Riverdale, 3rd Floor near 3231; Calumet City, 3rd Floor near 3119; Tinley Park, 3rd Floor near 3177; Midlothian, UCC; Oak Forest, UCC; Hazel Crest, 1st Floor near Mi-Jack Room; Phoenix, 3rd Floor near 3400; East Hazel Crest, 1st Floor near Mi-Jack Room; Country Club Hills, UCC; Burnham, 1st Floor near Atrium; Markham, UCC; and Posen, UCC.