Washington Park Non-Profit Wins $500 From Local Talk Show
citizen | 12/28/2011, 11:57 a.m.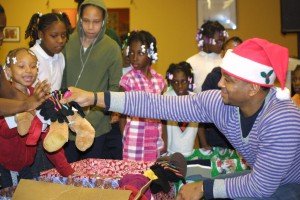 Youth at the non-profit K.L.E.O. Family Life Center received toys, games, stuffed animals and winter wear Thursday, at a holiday giveaway that included a special program. Just before the youth received gifts, distributed by K.L.E.O. Executive Director Torry Barrett, they spoke about what the center meant to them. For most of them, the after school haven has been a big help with homework, making new friends, and instilling values of friendship and respect, the kids said. Then it was on to the talent show where some kids recited original poetry, others danced and a few sang or rapped. In all, the day marked the spirit of the K.L.E.O. Center, an acronym for its theme and mission Keep Loving Each Other, according to Barrett. The organization, located at 119 E. Garfield, received a financial boost Dec. 20 when Barrett appeared on the morning television talk show, "Windy City Live." The show provided K.L.E.O. Center with $500 to help spread yuletide joy to the youth who attend there.
The K.L.E.O. Center was established soon after the death of Barrett's sister, Kleo, who was shot to death in a domestic violence incident.
Barrett said on Windy City Live that he and his family had only two choices when Kleo, a deputy Cook County sheriff, died.
"We could go on, or we could go off," he said. "We chose to go on."
The K.L.E.O. center offers an after school program, hosts a monthly food pantry giveaway and other community service events and efforts, according to its website.
By Rhonda Gillespie