9th Ward Day Care Helps Area Families
citizen | 12/27/2011, 11:08 a.m.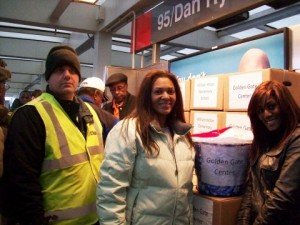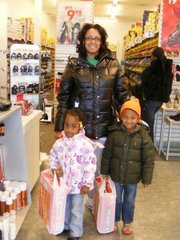 Jil Ross is the proprietor of Golden Gate Day Care Center, a 41 year old family business in the 9th Ward.
A few weeks ago she helped to make the season bright for several area families.
Target, Payless Shoes, Chicago Transit Authority and Toys for Tots helped Ross provide food, toys, clothing, and Christmas Trees to a total of twelve families.
Ross applied for help with some of the organizations and others just lent a helping hand.
We were notified in late November that we won a grant from Payless to provide shoes and boots for the children of our center and we held the event the Marshfield Plaza store on Dec. 11, she said.
Target helped provide winter accessories for the day cares children.
Target at Marshfield Plaza has done several literacy projects with the children at our center and when I called Linda Shaw, a Target Manager, and explained that several of our enrolled children did not have socks, hats, gloves or even coats, she told me that Target wanted to help and the store provided us with a gift card to purchase winter essentials for the children, said Ross.
Toys for Tots and CTA provided toy and food donations.
Toys for Tots called around the same time and said that we had a toy donation waiting and finally last week CTA notified us that our families would be recipients of the CTA Food Train, care packages which consisted of a box of holiday foods for our families. Many of our parents are not working now and all of these donations were truly blessings for the families at our center, said Ross.
Ross said the families have been extremely appreciative. The majority of the day cares families consist of single moms, young mothers and grandmothers. A lot of the parents are in school, training programs or looking for work.
We have several moms who are currently in a TANF training program, some in school and others looking desperately for work. I pool my connections with several sources and have even posted a job board and training board to help parents find work. Over 90 percent of our enrolled children have their childcare paid through subsidies, either the government or through our CPS Partnership collaboration, said Ross.
For Ross, helping people is essential. The day care has been a steadfast aid to the community for years.
From the beginning, it was important that our center operation not only address the social, emotional, physical and cognitive development of young children, but also help families. Providing training on good child development practices, providing food baskets at Thanksgiving and Christmas holidays has been a commitment for years. The 41 year motto, we are all about children, has sustained our spirits, as we work with our families, she said. Thelma Sardin, news release