Toy Giveaway Brightens Holiday Season
citizen | 12/22/2011, 4:02 p.m.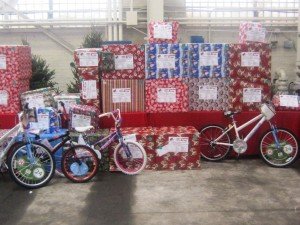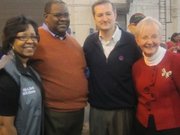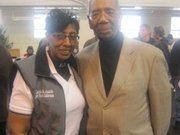 Holiday cheer overflowed during a local toy giveaway. On Dec. 17, children of the Chatham and Morgan Park communities received early Christmas presents at the Christmas in the 8th and 34th Ward event.
The toy giveaway was co-hosted by Ald. Michelle Harris (8th) and Ald. Carrie M. Austin (34th).
The affair was held at A. Finkl & Sons, 1355 E. 93rd Street. A. Finkl, a local steel manufacturing company recently relocated to the 8th Ward from the citys North Side.
A. Finkl was also the giveaways 2011 title sponsor.
Im so excited to be a partner in this Christmas in the 8th and 34th Wards event. It is my belief that all children, regardless of their familys economic status, should have the opportunity to truly experience this wonderful and joyous season of giving and receiving, Ald. Harris said in a written statement.
Im a public servant, and this is merely an extension of that duty. I further encourage all persons who are able to give some form of charity this season start right in their own community, on their block, at area schools or churches, Ald. Austin also said in a statement.
The aldermen along with several local business leaders joined efforts to raise over $60,000 to purchase toys, clothes and food for over 1,000 needy children.
Larry Huggins, president, Riteway-Huggins Construction Services, Inc. has coordinated the giveaway since its inception 15 years ago.
For 14 years, the event was held in the Englewood community; however, this was the first year Huggins decided to help children in the 8th and 34th Wards.
Over the years, the giveaway has raised over one million dollars to purchase Christmas presents for area youth.
Its all about the kids and the families. Words cannot express the impact of what it means to the kids and families and also the business people who come and help, Huggins told Chicago Citizen.
Governor Pat Quinn and Cook County Board President Toni Preckwinkle were both among the elected officials that addressed the large crowd of anticipating children.
I think its very important this time of year that all of us in Illinois look for ways to come together and work together for the common good, said Quinn.
This is a time not only for gift giving but also Thanksgiving. All of usregardless of our economic circumstances have a great deal to be thankful for. I hope that we take time in this holiday season not only to express our gratitude for the gifts that we receive but our gratefulness for the blessings that we have received as well, said Preckwinkle.
By Thelma Sardin