Thornton Township Fights Hunger For The Holidays
citizen | 12/21/2011, 1:21 p.m.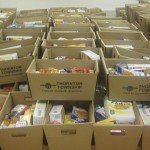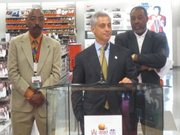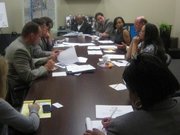 Tis the season for giving and Thornton Township is keeping with such sentiment. On Dec. 7, the township gave away nearly 2000 food boxes to families at its South Holland offices. The packages were stuffed with one whole chicken, loaf of bread, cranberry sauce, candied yams, stuffing and much more.
Wednesdays giveaway will feed many families this holiday season. Christi Gallup, a box recipient is going to use her food for Christmas dinner. She is preparing a spread for her sisterwho she has not seen in years.
Lisa Williams, who also received a box attends the giveaway annually and said it helps a lot.
Hunger continues to devastate families in the Southland region. The Greater Chicago Food Depository released a study in September citing Ford Heights (55.5 percent), Robbins (45.0 percent) and Dixmoor (38.7 percent) as having the highest rate of food insecurity among Cook County suburbs.
The study also reported that in Cook County, 36 percent of those who are food insecure 304,528 individuals earn more than 185 percent of the poverty level ($20,146 for a household of one) and are not eligible for most federal food programs.
Thornton Township has hosted the annual holiday food giveaway for many years. However, Frank Zuccarelli, who became township supervisor in 1993, has since amplified the operation.
Bags were originally distributed to residents now boxes are given.
The majority of the food used for the giveaway is usually donated by local elementary schools. The school that donates the most food is honored with a plaque during a township board meeting. The township purchases any remaining items needed to complete the baskets.
Tannika M. Hughes, Christmas Basket coordinator, told the Chicago Citizen that preparation for the annual event occurs in August. At that time volunteers are identified along with the number of food boxes needed.
All the people in Thornton Township know that were going to do this Christmas basket. We do it at the same time every year, said Hughes.
Paula Counts, a township volunteer of three weeks, wanted to help people this holiday season. She asked Hughes how she could offer her services and was told to volunteer.
I understand that times are hard and people are trying to do as much as they can this holiday season. I believe you are supposed to give back to your community, she said.
Counts added that food basket recipients were very thankful for the townships support.
The people have been extremely grateful and kind. I believe it is a wonderful thing that the township is bringing some holiday cheer and supporting families that are in need, she said.
By Thelma Sardin