Feeding Event Brings Hope to Auburn Gresham
citizen | 12/21/2011, 1:20 p.m.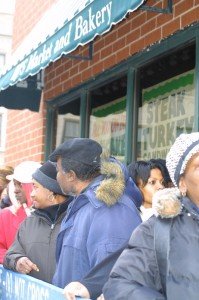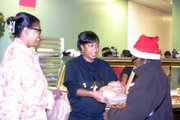 The line for a free meal wrapped around the building of BJs Market & Bakery restaurant and extended down the street Dec. 13 as St. Sabina church and its sponsors hosted Operation Hope. The event provided a free hot meal and some encouragement.
This was the second annual year for the community outreach event where 2,000 people received a meal from BJs Market, located on the corner of 79th Street and Racine. Rev. Michael Pfleger, pastor of St. Sabina, located down the street from the restaurant, said the event is an example of what can be done in a community when its business, civic and faith leaders come together.
Lin Hobiba, 37, was one of the first in line to be fed.
Im hungry, its BJs so great food. You cant beat that, he said.
Starting at 3 p.m. Pfleger was inside the restaurant greeting people from off the street as they streamed through and received a container pre-packed with chicken or ham, greens, macaroni & cheese and a corn muffin. For the outspoken South Side Catholic priest, the event was not only about food, but also about letting those struggling to survive --- especially struggling to eat --- know that they are not forgotten.
(Poor people) feel forgotten, they feel abandoned, feel like theyre the disposable society. And we have to let poor people know that we have not forgotten them, they are not invisible to us. Theres more than enough food and theres more than enough housing, weve just got to share, Pfleger told the Chicago Citizen.
The Auburn Gresham community where the church and restaurant are located is one identified at the end of the summer in a study by the Greater Chicago Food Depository as having a high rate of food insecurity. Nearly a quarter (24.6 percent) of the communitys residents does not know from where or when they will receive their next meal on a daily basis, according to the report.
The report ties the communitys 11.4 percent unemployment and 26.4 percent poverty rates to the food insecurity there. Pfleger said he knows firsthand that having enough food is an issue in Auburn Gresham, and in many other communities. He said that St. Sabinas food pantry had previously been providing food to some 2,000 people. Now, he said, the number has exploded to over 4,000.
Not only has the face of hunger changed, its grown and unfortunately we as a country have allowed it to grow. Ive never seen more poverty, in my 36 years in this community, as I do right now, Pfleger said at the BJs Market event.
St. Sabina received support from Johnson Publishing Company (JPC) and company representatives were on hand passing out meals. WVON-AM/1690 was also an event sponsor and had representatives at BJs.
BJs owner John Meyer assisted in passing out meals. He told the Chicago Citizen that providing the food for this event, even as his business suffers its own blows due to the tumultuous economy, was the least he could do.