Civic Leaders Honored For Diversity
citizen | 8/30/2011, 10:20 a.m.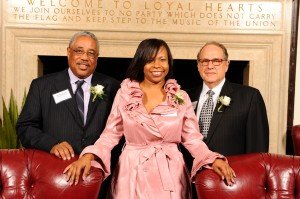 by Thelma Sardin
On Aug. 23, Melinda Kelly, executive director, Chatham Business Association (CBA), Jerry Reinsdorf, Esq., chairman of the Chicago White Sox and owner of the Chicago Bulls and former State Rep. Paul Williams were honored during Barnes & Thornburg LLPs 2nd Annual Celebration of Diversity. The dinner and awards program was held at the Union League Club of Chicago.
The Celebration of Diversity brought together legal and business leaders who are steadfast in making the Chicago legal and business community the most diverse in the country.
The event is the brainchild of Barnes & Thornberg partner, Richard Boykin. Boykin recently told the Chicago Citizen how the idea was conceived for the dinner. We decided to do it as a way to honor trailblazers in Chicago. As a law firm we take interest in making sure that we not only state that diversity is important but we do it in a tangible way of identifying people like Melinda Kelly, Jerry Reinsdorf [and] Paul Williams who have made significant contributions to diversity, he said.
The honorees are selected by a committee consisting of Boykin, his assistant and a representative from the firms marketing department. We come up with a list of names we think have done some tremendous things and we weigh that list to determine who we are going to go for, he said.
The dinners sponsors included: The American Dietetic Association, Best Buy, Chicago Westside Branch NAACP, Chicago Lighthouse for the Blind, Crown Imports LLC, Northstar Lottery Group and the Office of Congressman Danny Davis.
James Ryan, executive vice president, Crown Imports LLC explained his companys involvement in the firms celebration.
"...Crown Imports was thrilled to be able to join with Barnes and Thornburg and other companies and organizations to sponsor the 2nd Annual Celebration of Diversity dinner. We are proud to be able to honor individuals like Melinda Kelly, Jerry Reinsdorf and the Honorable Paul Williams, who have worked so hard to make Chicago a better place for all of us to live, work, and raise our families. The message delivered at this event was powerful... Diversity is part of our culture and must continue to be part of our future..."
Jack Stonebraker, Community Relationship Program Manager, Best Buy also weighed in on the mega retailers participation.
We are proud to be able to partner with all of the organizations and individuals that support the Celebration of Diversity dinner to recognize the outstanding achievements of 3 leaders that have dedicated themselves to embrace the unique needs of the diverse communities we serve and are committed to taking the small steps to make a difference!!
Williams was instrumental in creating legislation that expanded the Cook County judicial circuits which opened doors for more minority judges in Cook County. An attorney by profession, Williams is proud to have been honored for implementing diversity throughout his career. During the time Williams sponsored the legislation, he said there were only 22 black judges in Cook County and now there are more than 200. He has worked tirelessly for more diversity in the legal field which included paving the way for more Black lawyers.