Madigan Demands Fuel Gel Recall
citizen | 8/16/2011, 12:10 p.m.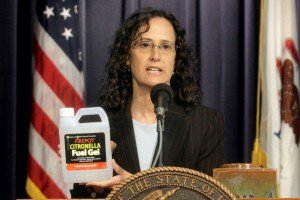 by Thelma Sardin
After shocking reports of injuries in Illinois and around the country, Illinois Attorney General Lisa Madigan is requesting that the Consumer Product Safety Commission (CPSC) recall and immediately ban the sale of fuel gel products.
Fuel gel is a combustible liquid that is used in place of a candle in fire pots or ornamental vases. The substance is commonly used to deter outdoor insects.
Madigan held a news conference at the James R. Thompson Center in Chicago on Aug. 10 to highlight the dangers of fuel gel products.
Here's the problem with the fuel gels," said Madigan at the press conference. "They are usually sold in conjunction with a fire pot, and in these fire pots they have a metal container that you pour the fuel gel into. You then ignite that fuel gel and put it outside."
She added that individuals often add more fuel gel thinking that the flame has diminished.
"For many people, what happens is they no longer believe that it's lit, and they end up pouring more of the fuel gel into the fire pot," Madigan continued. "When they do this, it has horrible consequences."
At the conference, the attorney general was accompanied by two victims of injuries resulting from incidents related to use of the flammable liquid.
Jeffrey Sipple of Chicago was injured during a party last month. He suffered serious and extensive injuries when fuel gel in a nearby firepot exploded. The explosion caused burns to his face and arms.
"I was probably seven to ten feet away," Sipple said at the news conference. "I think that's something that's very important for people to know. It's not that somebody was playing around. It burst into a ball and actually lit the left side of my body on fire."
Sipple gave a vivid description of his ordeal.
"As we were trying to put it out, I was trying to stop, drop, and roll," he continued. "To give you an idea of how hard it is to put this stuff out -- as we're rolling, it's lighting the stuff that we're touching on fire. It's a pretty harrowing experience."
Madigan wants a ban and recall immediately to protect consumers and to prevent future incidents.
Recalling these items one by one wont cut it, she stated in a press release. In the midst of the summer season, many of these fuel gel products are already in peoples homes and backyards. We need to work quickly to alert consumers about the extreme dangers they pose.
In June, the attorney general warned consumers about the risk of severe and potentially life-threatening burns when using fuel gel products. The CPSC soon after recalled one fuel gel product made by Napa Home & Garden Inc. The company has since pulled its products from store shelves, but fuel gel products by other manufacturers are still on the market.
Madigan urges Illinoisans to stop using fuel gel products immediately.
In addition, any consumer who has been injured in a fuel gel-related incident should immediately contact the Consumer Product Safety Commission by calling 800-638-2772 or logging on to saferproducts.gov
Consumers seeking more information can also contact the Illinois Attorney Generals Product Recall Hotline at (888) 414-7678, TTY (800) 964-3012.