Aretha Franklin Excited To Sing At King Statue Dedication
citizen | 8/16/2011, 11:50 a.m.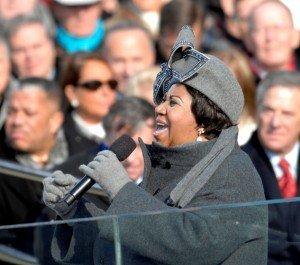 by Nekesa Mumbi Moody
AP Music Writer
NEW YORK (AP) - When a young Aretha Franklin accompanied the Rev. Martin Luther King Jr. to churches in the early days of the civil rights movement, he usually made a special request for her to sing one song in particular: Take My Hand, Precious Lord.
On Aug. 28, when a memorial in his honor is dedicated on the National Mall in Washington, Franklin will again sing the song for her mentor and friend.
It means as well, after so many years of traveling with him in the early `60s at the advent of the civil rights movement, that again, many years later, I would perform in his honor and in tribute to him, and I'm really looking forward to that moment and singing one of his favorite songs, his most requested song by me,'' she said.
Franklin, 69, was one of the early supporters of the campaign to honor the civil rights hero with a statue in the nation's capital. She even headlined an all-star concert at Radio City Music Hall in New York City in 2007 to raise funds for the memorial, which has been years in the making.
President Barack Obama, Stevie Wonder, Maya Angelou and many more are expected to participate in the dedication ceremony.
Associated Press text, photo and/or graphic material shall not be published, broadcast, rewritten for broadcast or publication or redistributed directly or indirectly in any medium. Neither these AP Materials nor any portion thereof may be stored in a computer except for personal and non-commercial use. The AP will not be held liable for any delays, inaccuracies, errors or omissions therefrom or in the transmission or delivery of all or any part thereof or for any damages arising from any of the foregoing.