Actress Launches AIDS Campaign
citizen | 8/16/2011, 12:14 p.m.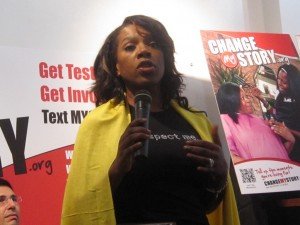 by Thelma Sardin
Legendary singer actress/singer, Sheryl Lee Ralph was in Chicago this past weekend to help launch the Aids Foundation of Chicagos (AFC) Change My Story campaign. Change My Story is a public outreach movement to begin frank discussions about serious health issues that affect minority communities in Chicago.
According to a press release, the campaign aims to serve as an overall health initiative, addressing the important issues surrounding various diseases such as hypertension, high cholesterol, hepatitis, diabetes, and cancer. The first phase of the campaign will focus exclusively on HIV/AIDS.
The education outreach initiative is designed to inspire Blacks to live life to the fullest by connecting them to life-extending preventative health care services.
During an event at the Gallery Guichard in Bronzeville on Aug. 12, Lee Ralph delivered a stirring 13 minute speech about the importance of HIV/AIDS Awareness.
The actress declares that HIV/AIDS is a preventable disease but yet it continues to plague communities of color.
HIV/AIDS is 100% preventable. It does not have to happen. But why does it keep happening? , she said.
Lee Ralph added that people do not disclose their status because they are not aware they have contracted the disease.
The number one reason why folks dont tell people they have HIV/AIDS is because they dont know they have it. They havent been tested, she said.
The actress/singer is estatic to be a celebrity ambassador for the campaign but proclaims that more needs to be done in the community for HIV/AIDS.
Im excited and happy to be a part of Change My Story but we need to change the story. The story is old, the story is tired and the story should not be happening, she said.
According to the AFC, the campaign will be citywide; however, it is launching its first phase on the South side where the organization coordinates a full range of testing, case management and support services.
Change My Story has bus shelter advertisements in the Bronzeville, Hyde Park, South Shore, Chatham, Beverly, Morgan Park, Auburn Gresham and Englewood communities.
The campaign also has an online portal, ChangeMyStory.org that allows individuals to view videos, testimonials and communicate with others about minority health issues.
Change My Story is about inspiring and empowering people to take control of their life and health, with respect to HIV/AIDS and all life-changing illnesses, said David Ernesto Munar, AFC President and CEO. No one is helpless to HIV/AIDS and other chronic conditions: you can literally change your story for the better with proactive steps. Thanks to medical advances, dramatic improvements in health are within greater reach than ever.
The Centers for Disease Control and Prevention (CDC) reports that at some point in their lifetimes, 1 in 16 black men will be diagnosed with HIV infection, as will 1 in 32 black women.
Additionally, in 2006, the rate of new HIV infection for black women was nearly 15 times as high as that of white women and nearly 4 times that of Hispanic/Latina women.
Lee Ralph believes that community engagement will be important in lowering and preventing the number of HIV/AIDS cases. We are not doing enough and we can do more, she said.