Local Event Observes Donor Awareness Day
citizen | 8/9/2011, 11 a.m.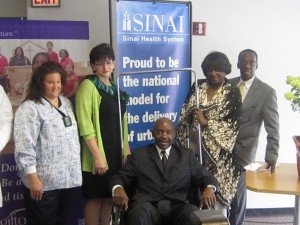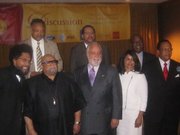 Cook County Commissioner Robert Steele along with representatives from Gift of Hope Organ & Tissue Donor Network held a press conference in honor of National Minority Donor Awareness Day (NMDA) on Aug 1 at Mt. Sinai Hospital.
NMDA is a nationwide observance to educate minorities of the great need for organ donation and transplantation within multicultural communities.
The local observance of NMDA sought to encourage people of all minority backgrounds to join the Illinois/Organ Tissue Donor registry and to spread knowledge to their communities.
Gift of Hope Organ & Tissue Donor Network is a federally designated not-for-profit agency that coordinates organ and tissue donation and supports families of donors in northern Illinois and northwest Indiana.
Aug 1 marked the 15th anniversary of NMDA. The day was first recognized in 1996 by President Bill Clinton.
According to data from Donate Life America, minorities are many of the people who receive organs but very few of those who donate. In 2010, 5,963 African-Americans received organ transplants, but only 2,089 African Americans were donors. In the same year, 3,795 Latinos received an organ transplant, but only 1,953 Latinos were donors.
In 2010, organ transplants were performed on 11,499 minority patients; while there were 2,652 minority deceased donors and 1,997 minority living donors.
Minorities are in the greatest need to become organ donors for several reasons. Among them are: minorities comprise 55 percent of living individuals on the national organ transplant waiting list and 32 percent of living and deceased organ donors while making up 35 percent of the U.S. population.
Secondly, many of the conditions leading to the need for a transplantsuch as diabetes and hypertension occur with greater frequency among minority populations.
Although ethnicity and race are not determining factors in donations, the success rates of transplants increase when organs are matched between members of the same ethnic and racial group, said Jackie Lynch, director of community affairs, Gift of Hope. Lower donation rates among minorities can result in longer waiting periods for transplants for minority organ recipients.
Commissioner Steele, who recently underwent a surgical procedure that required him to use a wheelchair to get around, was joined with his sister, Joyce Mosely at the press conference to share their experience about organ donation.
Steele received a kidney from his sister last November. A 27-year battle with Type 2 diabetes had an adverse effect on his kidneys. At one point, he was undergoing dialysis treatments three times a week before discovering his sister was a match.
I had a blessing in my lifeI had a sister that was kind enough to share with me a part of her body, so I can keep living, he said.
Steele said that four other siblings had been tested to see if they were a match before Mosely tested as a perfect match.
The commissioner added that the problem in a lot of minority communities is that people are afraid to test and see if they can save a life.
Thats the problem most of our family members wont even test. You can get neighbors, friends, people you hang out with to test. Its just that simple, said Steele.