Experts Anticipate No Defining Denim Trend For Fall
citizen | 8/2/2011, 7:10 a.m.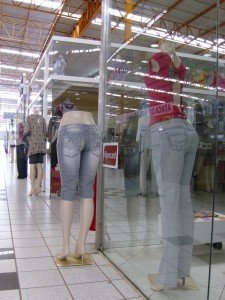 by Samantha Critchell
AP Fashion Writer
NEW YORK (AP) - In the '70s you had your bellbottoms and in the '80s your tight designer jeans. In the '90s, you went from distressed grungy to dressy denim, and then came the skinny-jean revolution in the 2000s.
But insiders say there isn't a defining denim trend heading into the important fall shopping season this year and that's expected to be a good thing for the women's apparel market.
It takes multiple pairs to round out your wardrobe. Skinnies and their close cousin the jegging are still going strong. There also is a more wearable interpretation out there of the high-waisted, flared-leg pant that was popular on the runway for fall, and boot-cut and boyfriend jeans have earned classic status.
The consumer is passionate about denim, and it seems like you can't have too much, says Marshal Cohen, chief industry analyst with market research firm The NPD Group.
He adds, You're going to find a denim free-for-all where anything goes. Purchases will be spread out and people will buy by brand, but not a single trend. Price point is a factor but the features people are putting a greater emphasis on is fit and brand.
Jeans already are the rare apparel item that people don't give up on when they are feeling economically squeezed, Cohen says. He puts them in the replenishment category along with socks and underwear, because people feel they are a necessary thing.
Even when they're not worn out, consumers are willing to trade up their denim, in the way they will few other things except perhaps a new smartphone or laptop, if they find a pair they think are more flattering, Cohen adds. They're always back on the quest for the perfect pair.
Sales for women's jeans had a period of brief decline in the middle of 2010, NPD reports, but ended up 2.6 percent and grew another 20 percent in the first three months of 2011. Jeggings were a juggernaut, finishing last year with an increase of 200 percent, but Cohen suspects those were more of a fad.
Fashion denim as a category is still poised for further growth, though, because people aren't married to a single look: They still have their casual and dressy pairs, black and white jeans, and those with light and dark washes. And all those silhouettes.
What denim is today has changed from just jeans. ... It's crossed the boundary of just being one thing, says Rosella Giuliani, creative director of Gap's denim collection.
Designers and celebrity stylists Emily Current and Meritt Elliot say they have noticed huge shifts in trends when it came to jeans every five years. If that's still true, we're in the middle of the anything goes trend. It's a fun point when there are lots of trends relevant at the same time, says Current. It encourages personal style and lets you play with proportion and different styles.