Sawyer and Simon attend CBA Meeting
citizen | 4/12/2011, 9:45 a.m.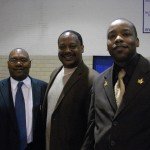 by SheRico Jones
This past Tuesday, Chatham Business Association held its monthly membership meeting at South Central Community Services on the citys south east side. The attendees included local small business owners as well as guest speakers Lt. Governor Sheila Simon and newly-elected 6th ward Alderman Roderick Sawyer.
Topics of discussion included the importance of education and job opportunities as a proactive approach to ending the violence among the citys youth. Speakers also addressed improving the states educational system and providing additional resources to make Illinois youth more competitive in the global job market.
Lt. Governor Sheila Simon spoke on the importance of placing more emphasis on community colleges. According to Simon, the national percentage of college graduates is 12%, but that number must go up, she said..
I understand that there are educational haves and educational have-nots, but [we] cant have a state where some have a great education and others have to make do, she said. That is one of the things that I will be working on.
Simon went on to say, The Community College system is a key to connecting employers with potential employees. Companies should go to community colleges when looking to hire and more students should think first about attending community colleges, she added.
Alderman Roderick Sawyer agreed with Lt. Governor Simon adding, A lot of people cant afford to attend a four year college or university, so I think community college is important because youth need opportunities to get training in core areas so that they will be ready to compete in the job market.
According to the American Association of Community Colleges, 60% of all students who attend community colleges do so with the intention of transferring to a 4-year institution. Based on the complete percentile, only 27% are African American. However, the American Council on Education states that community college enrollment is on the rise where the average student is 29.
Later in the meeting, Freida Curry, director of the Illinois Procurement Assistance Center, Womens Business Development Center (WBDC) offered an overview of how to do business with the government. She explained the certification process for small businesses as well as how to find and obtain government contracts.
There will be several How to Become Certified seminars held April 27th, May 25th and June 29th from 2:00pm-3:00pm at City Hall located on 121 N. LaSalle Street in Room 805. These seminars are sponsored by the citys office of compliance. Space is limited, so participants are being asked to make reservations by calling 312-744-5344.
WBDC also offers many resources to assist business owners including a database through which they can receive automated alerts sent directly to them whenever city contracts match a business type. The database is free of charge to clients. To inquire about these services and many more, visit their website at WDBC.org.
Also at the meeting, many of the speakers, including board member Bonita Parker of Commonwealth Edison and CBA Vice Chairman Joseph Caldwell, made the connection between education, small businesses and the sharp increase in youth violence in the community. In addition to educating and preparing youth for the future, speakers discussed the importance of small businesses making a difference in the lives of young people by hiring them. If we dont hire these young people, we cannot complain about the violence, stated CBA Executive Director Melinda Kelly.