Donate Life! Kicks Off
citizen | 4/12/2011, 11:25 a.m.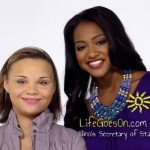 by Thelma Sardin
Last week, Secretary of State Jesse White launched Donate Life! Month in the state of Illinois. April is National Donate Life! month. To celebrate the months kick off, Secretary White unveiled a new ad campaign featuring a 13 year old heart transplant recipient, Mikahla Thornton. In the campaign, Thornton appears with Brittney Payton, the daughter of legendary Chicago Bears great Walter Payton, who during his lifetime had a dramatic impact on donation.
During the month of April, organizations from around the state will work together to promote organ and tissue donor awareness. TV and radio ads will air state wide throughout the month in English and in Spanish. The ad featuring Thornton and Payton will be played on an estimated 650 movie screens in Illinois. Recently, Thornton, Payton, doctors and an eight year old liver recipient appeared at a press conference to debut the ad campaign.
According to White, 5.6 million Illinoisans have signed up to become organ donors. Unfortunately, there are 5,000 people on the waiting list to receive organs and each year about 300 people die because they dont receive donations in a timely fashion.
Organ and tissue parts from a deceased individual can save up to 25 lives. We ask that when you are alive and well, give blood and when you are no longer here, give organs. When you have done those two things, youve made a positive impact upon society considering the fact that one person can provide life or improve the quality of life for 25 individuals, White said.
While organ donations give other people an opportunity to improve the quality of life or help sustain life, White added, folklore and urban legends keep many African Americans from signing up to become organ donors.
There are three major myths that are out there. One is that a doctor will not put forth a genuine effort to save you because they are concerned about those 25 organ and tissue parts. Another one is that the organs are going to be sold; [you] cannot sell organs in the United States and the last one is that if you are wealthy or if you are rich, you are going to be able to get an organ ahead of anyone else.Every place I go, I try to dispel them, he said.
Secretary White also shared the story of Mikahla Thornton, a young heart recipient who is featured in the new ad campaign.
She had a heart but it wasnt functioning properly, so her parents put her on an organ and tissue donor list and as a result of someone elses generosity, she got a second chance in life. ...The beauty of Mikahlas gift is that shes now a 13 year old. During her spare time, she encourages others to participate in this organ and tissue donor program, he said.
While children may be too young to understand the seriousness of organ donation, Secretary White says it is the perfect time for children to learn the importance of giving. We want to provide them with as much information as we possibly can early on about how this program functions and the importance of giving someone else a second chance at life.
Others have also praised White on his organ donation awareness efforts.
Public awareness is crucial to organ and tissue donation, says Jarold Anderson, President/CEO of Gift of Hope Organ/Tissue Donor Network. We commend campaigns such as this one launched by Secretary White. These efforts have made and continue to make a tremendous impact in our efforts here in Illinois to save and improve the lives of as many people as possible.
Illinois residents can register to become an organ donor by logging on to www.lifegoeson.com, calling the Illinois Secretary of State Organ/Tissue Donor Program at 1-800-210-2106 or while obtaining or renewing an Illinois drivers license or state identification card at any state drivers license facility.