NBA MegaStar Carmelo Anthony Serves Up His Swagger for Johnson Products Company Launch of Ultra Sheen Men
citizen | 4/11/2011, 9:21 a.m.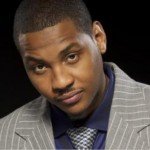 NEW YORK -- NBA Star Carmelo Anthony has just inked a multiyear deal as the corporate spokesperson for Johnson Products Company, Inc. (JPC), known as one of the most pioneering ethnic hair care companies in the world. JPC has entered the mens grooming arena with the Fall 2010 launch of Ultra Sheen Men. Building on the companys legacy and expertise in the African American ethnic hair market, JPC is continuing to reinvent itself and introduce new brands with innovative formulas and products that meet the needs of todays multicultural consumer. The Ultra Sheen Men grooming collection is targeted to the trendsetting man who has style and swagger. Today, no one better exudes the trendsetting man than NBA All-Star, Carmelo Anthony, who has signed on to lend his voice and celebrity to the Ultra Sheen Men line.
PRNewswire