First Lady Sees Food Desert Solution
admin | 2/24/2010, 10:33 a.m.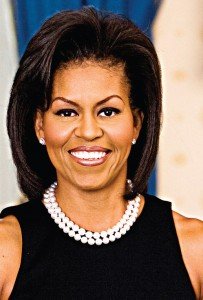 By Eric MayesSpecial to the NNPA from the Philadelphia Tribune
First lady Michelle Obama, crusading against childhood obesity and food deserts, singled out North Philadelphia as a shining example of how communities can come together to bring healthy foods to urban areas while creating jobs and revitalizing ailing neighborhoods. You all should be very proud to be highlighted here today for the work that youve done. Its really groundbreaking, she told a crowd of hundreds gathered at Fairhill Elementary School on last Friday, where she appeared to promote a new healthy eating and fitness initiative called Lets Move aimed to reduce childhood obesity.
You decided first that no family in this city should be spending a fortune on high-priced, low-quality foods because they have no other options. You decided that no child should be consigned to a life of poor health because of what neighborhood his or her family lives in. And you decided that you werent going to just talk about the problem or wring your hands about the problems, but you were going to act. Obama, accompanied by Treasury Secretary Tim Geithner and Agriculture Secretary Tom Vilsack, made two stops: First at the new Fresh Grocer in Progress Plaza and then at the school. She was greeted like a superstar at both venues. Shoppers shouting We love you mobbed the grocery store, crowding impromptu barriers of pastries and other baked goods as Obama toured the stores deli and produce section.
Their shouts drew the first lady away from the prepared tour as she took time out to shake hands, even reaching into the crowd to squeeze the hand of a little girl on her fathers shoulders. The crowd had been waiting inside the store for hours hoping to catch glimpse of Obama.
Storeowner Patrick Burns escorted Obama on the tour where she saw shelves filled with fresh fruit, vegetables and prepared food and even stopped to buy a strawberry-banana smoothie.
I even have my own money, she told the worker pulling out a $20 bill to pay for it and jokingly checking to make sure she got the correct change. The 46,000-square-foot Fresh Grocer located in one of the citys poorer neighborhoods, where an estimated 25 percent of families live in poverty, is part of Progress Plaza, said to be the first African-American-owned shopping center in the United States, having been developed in 1968.
The $15 million store opened last December. It was developed by, among other entities, the Pennsylvania Fresh Food Financing Initiative, a public-private partnership created to increase the number of supermarkets in underserved communities across the state.
The initiative, in partnership with the state, the Reinvestment Fund and the Food Trust both nonprofit organizations in Philadelphia will spend $190 million to build 83 grocery stores in 34 counties and created 5,000 jobs statewide, she said. If you can do it here, we can do it around the country, Obama said. Our goal is ambitious. Its to eliminate food deserts in America completely in seven years. President Obama has announced that he will spend $400 million from the 2011 federal budget for a national Healthy Food Financing Initiative based on the Philadelphia model.
At the second stop, Obama spoke to an auditorium filled with hundreds of people, a mix of adults and children, where she promoted her Lets Move initiative. Obama noted that one in three children in the United States are overweight or obese and that more children are showing up in pediatricians offices with high blood pressure, type 2 diabetes and high cholesterol.
Lets Move is a nationwide campaign to rally this country around one single but ambitious goal, and that is to end the epidemic of childhood obesity in a generation so that the kids born today grow up with a healthy weight, she said. The program combines four steps: food and menu labeling, more nutritious food in schools, promoting physical activity and providing access to healthy foods to everyone. So lets move, she said. Thats really the point. If we know it can be done, lets move; lets get it done. Lets give our kids everything they need and everything they deserve to be the best that they can be.