CBA Meeting Brings Technology to Forefront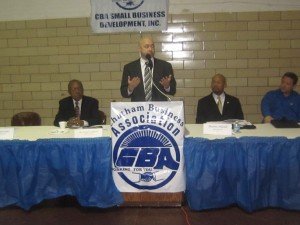 The Chatham Business Association held its monthly meeting on Dec. 14. Guest speakers included Joseph Kowalenko, Founder & CEO of Zo-Link and Mike Krawchuk, Business Technology Consultant for Best Buy. A special presentation was given by Octavia Hooks, manager of community affairs at the Museum of Science and Industry (MSI). Hooks discussed MSIs Black Creativity Program. The 39-year-old program immerses African American youth in science and technology through exhibits and activities. Through the program, the museum is, trying to get to the kids when theyre 8 years old, 9, 10 and explain to them that you can be in the field of science, technology and medicine and not feel intimidated by it. Hooks explained that Black Creativity is an avenue to reach out to African American children. We get them in there and talk about current technology issues.for 2011-2012 we will be discussing energy. She added a discussion about energy is beneficial to black youth because of the expanding job market in the field.
Following Hooks, Kowalenko discussed the function of his company Zo-Link, a technology company. Kowalenko emphasized the importance of innovation in a world centered on technology. If the entrepreneur is not thinking in an innovative way, it will not help the company think in an innovative way, Kowalenko said.
The final speaker, Krawchuk, discussed how Best Buy helps businesses use technology effectively. Krawchuk and Kowalenko will lend their expertise at CBAs Business Innovation Forum coming up on Dec. 17 from 10am- 3pm. Admission is free and will be held at The CBA Community Center at Chatham, 806 E. 78th St.